InPhase - Your Trusted Power Quality Partner
InPhase is a trusted company which provides highly precise solutions for power quality issues. InPhase with over years of expertise & innovation provides reliable & robust power quality solutions ranging from Active Filters, Static Var generators, Hybrid filters, RTPFCs & APFCs for worldwide customer base from India, Saudi Arabia, Vietnam, Canada, Mozambique, Bahrain and other countries.
With proven track record of installation of 3,50,000 Amps, we can transform the quality of power to suit the process of the industries. The products are designed & solutions are customized, so the customers can be rest assured about the quality of power to support their business. We also provide Power quality audit & solutions for industries. 
"We appreciate the timely delivery, commitment, ability to solve on site practical problems relating to Steel industries and above all commissioning within just a few hours"


Mr. Naik G. T.
"ASTRA Active Harmonic Filter controller is capable to maintain the power factor at the metering point, which is at 132kV HT and 22.5kms away"


Mr. Sachin Singhal
"We appreciate the approach of InPhase for solving the problem, keeping the customer's point of view in the first place"


Mr. R. T. Chari,
"The challenging part to maintain power quality for our loads is the highly dynamic nature of rolling mills and ARC furnaces. With InPhase Solution, we are able to reduce our energy bill right from day one of installation."


Mr. Shankar Shelke
"InPhase team executed the project satisfactorily within the delivery time and extended proactive technical and supervision support during the installation, Testing and commissioning of the system. We also appreciate their prompt service supports even after sales."


Mr. Vijay Kumar Bhardwaj
"The challenging part of the installation is the floating grid application, which means the utility supply is in synchronization with TG supply. InPhase team has provided a custom-made solution which worked to the extent of our requirement."


Mr. Ajit Dubey
"It has been nearly 24 months from the date of commissioning, we are happy and satisfied with the product performance and services provided by the In-Phase Team. We wish the In-Phase R&D team well and great success for solving more challenging problems in Power Quality Industry."


Mr. Mahesh Y Dhanak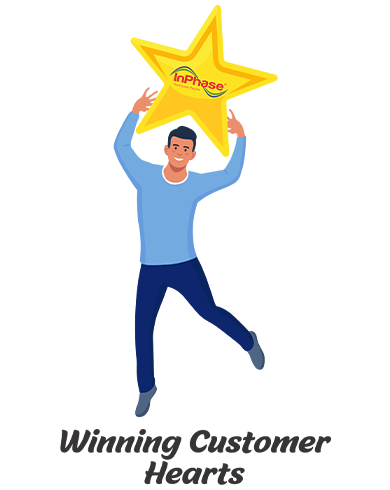 Schedule a Meeting With Our Power Quality Expert Today